How and where to buy bitcoin?
How do I start exchanging cryptocurrencies?
With Bitcan it is extremely easy. In our bitcoin exchange you can easily exchange your Polish zloty for bitcoins and vice versa. Thanks to this site you will see for yourself that buying bitcoin and storing them safely in your wallet is very easy!
To begin with, specify how many bitcoins you want to buy. You can easily count it on our site – thanks to the special tool you will know conversion of your money into bitcoin. You'll find out how much you'll get when you trade just on Bitcan.pl! You can both quickly buy and sell bitcoins.

Once you have selected the appropriate amount of bitcoin/other currency, you make an online transfer. We handle most of the means of payment, and transactions are encrypted via SSL. Transaction security is comparable to banking operations!

Chwilę po przelewie otrzymujesz środki na podany przez Ciebie rachunek bitcoin. Całość operacji trwa 2 minuty, czyli wszystko odbywa się ekspresowo! dodatkowo, zakładamy Ci (jeśli jeszcze go nie masz) darmowy portfel bitcoin, który pozwoli Ci na swobodne zarządzanie with purchased bitcoins.
Congratulations!
Now you can buy and sell bitcoins at will! If you have any questions or something is unclear to you, then we are at your disposal around the clock. Contact us!

Exchange PLN into bitcoins or vice versa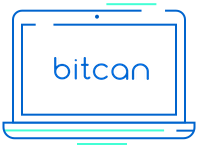 buy online
invest
transfer to friends
Free, secure bitcoin wallet, which will be established after the first transaction, will allow you to accept deposits and make transfers for free
Buy Bitcoin
Sell Bitcoin